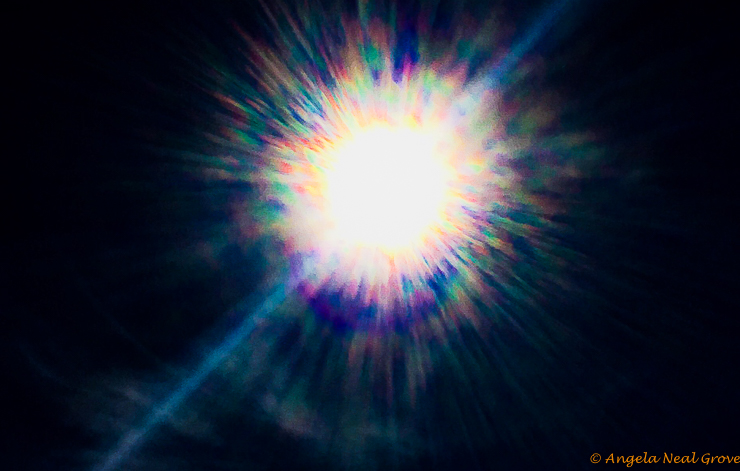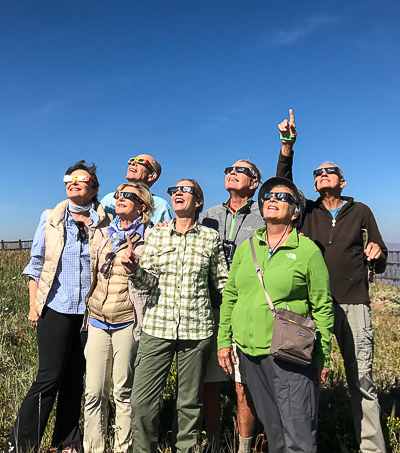 Wow! There was a loud collective gasp at the moment of totality at the Sun Valley Total Eclipse.
Total Eclipse
I was on top of Bald Mountain, affectionately known as Baldy, in Idaho's Smoky Mountain Range. It was a moment I shall not forget.
We had been watching intently as the moon nudged into the sun. Taking a bigger and bigger sliver. Gradually the light dimmed. Sunset at 11:15 am, but it was a cold eerie twilight unlike photographer's favorite golden hour.
All of a sudden a flock of birds dashed chirping across our sights adding to the unnatural aura.
Totality
Then: "Wow!" As the moon aligned with the sun. The moon was a black disc surrounded by the brilliant corona of the sun with its flaming tendrils and jets of light curling and twisting out into infinity.
Then: "Look the diamond ring", as the moon imperceptibly moved a fraction past totality the corona looked like a gigantic 10 carat diamond ring.
Afterglow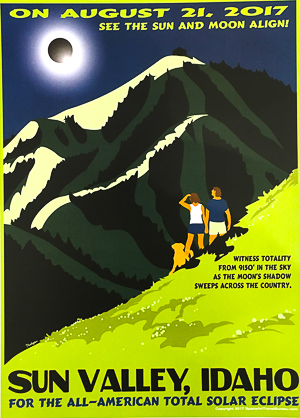 As light returned we walked over to Lookout Lodge near the top of the lift. A band was beginning to play adding to the already charged atmosphere. On some picnic tables were gigantic orange Veuve Cliquot ice buckets full of bubbly bottles. Some had watched totality in style. (Note to self – way to go next eclipse).
Icarus Moments
By the lodge, clusters of hang gliders were launching off into the valley under the waning eclipse. Behind us on the white stucco wall of the lodge I heard bees had noisily swarmed at totality – trying to reach their nest or just confused?
In the days following as totality stories were exchanged I heard of other strange animal and insect behavior as sun and moon aligned. At Galena Summit wolves (or coyote) howled.
In a meadow near Stanley antelope ran back and forth clearly disoriented. Migratory Sandhill Cranes stopped their companionable trumpeting and gave loud alarm calls. Cows sat down as "dusk" brought twilight midges from the grass.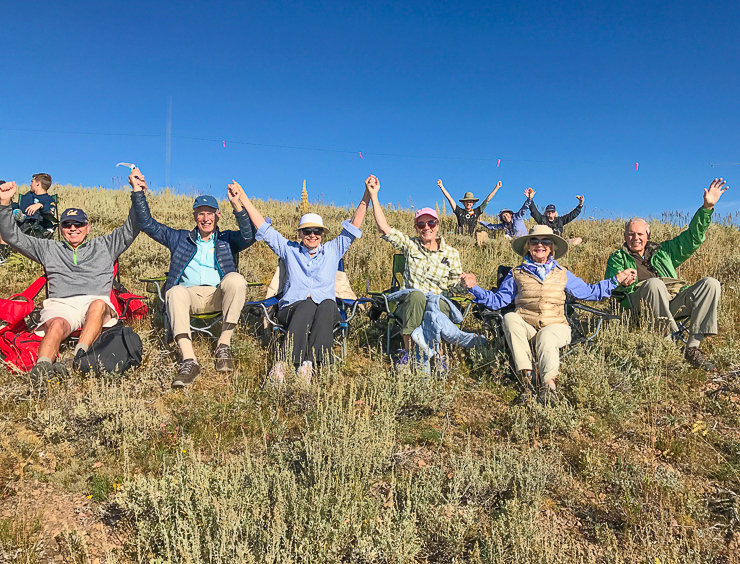 Sun Valley Total Eclipse
The total eclipse was magical, and it was unforgettable. I was with friends who agreed having experienced the eclipse together was a bonding experience. It was almost meditative. When is the next eclipse?
More about the eclipse from NASA