Early Saturday morning the paddle boarders were out on Mission Creek. Their reflections glistened as they paddled across the water past the parade of houseboats. An energetic game of volley ball was in full swing on a sandy court, there was some activity on the basketball court and around the boathouse stacked high with bright-hued kayaks.
The Photographers
Then they arrived –  one hundred photographers.   Some carried tripods, others bags of gear and multiple lenses. They all photographed.  They photographed the freeway, the railroad tracks, fireplugs, street signs, the boathouse and the boarders, grasses moving in the breeze, dogs, children and a white egret – who flew away. This was no frenzied paparazzi, however, and somehow these photographers added yet another creative element to the hip high-energy urban scene.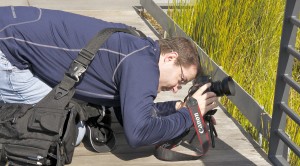 The Meetup
This event was a Meetup organized by Adobe.   Named The Adobe SF Photowalk, it was hosted by Tom Hogarty and Bryan O'Neil Hughes Adobe superstars behind Lightroom 3 and Photoshop CS5.  Tom and Bryan walked and talked with the group and eventually lead the way back to Adobe's redbrick warehouse-style building on Townsend Street.  The interior is loft-like giving the impression of a blank canvas.   Three huge screens were already set up for the demonstrations and presentations.
Presentation
Tom Hogarty first presented Lightroom 3 and took it through some of its paces.   After lunch Bryan O'Neil Hughes showed some of the highlights of Photoshops new CS5.    There were mutters of "awesome" and "no-way".   The audience was blown away by what the new software can do.
There were some giveaways – won by attendees who knew much more about  Adobe software than I will probably ever know.  There were some T shirts too – I would have liked one of those – Oh well.  Time to go home, download my images – to Lightroom of course.
The Artists Eye
Then the images began to arrive by email, dozens of them, taken by  fellow attendees.   Talk about awesome.   Were we shooting the same thing in the same place?  We saw the same things but others saw them in a completely different way.  These posted images are of shapes, shadows and blocks of color, the railroad tracks, dogs, daisies and even the egret before it took off. And they are still being posted.  Take a look at Adobe Photowalk photos and then check out the sneak peak of Adobe CS5 to get an idea of what can be done.   TTFN
http://www.meetup.com/Adobe-Photowalk/photos/1043062/17701917/