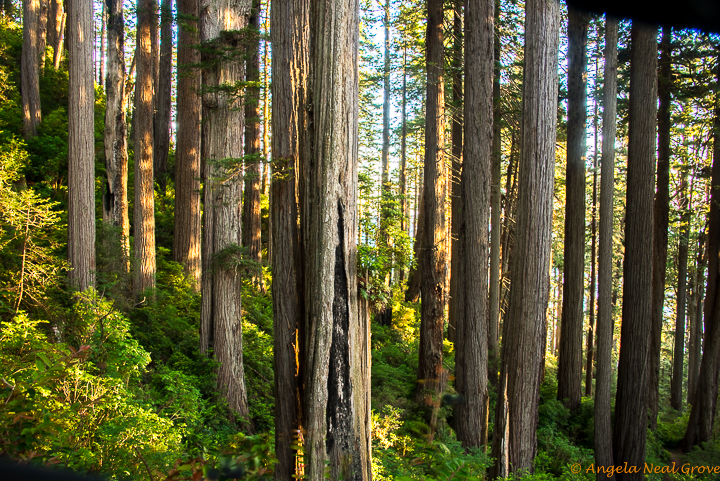 It is early morning in an ancient redwood forest. All is still. Mist clings to the forest canopy and ferns fringe the spongy path. This is an old-growth forest on the Northern California coast. It is awe-inspiring and also a UNESCO World Heritage Site.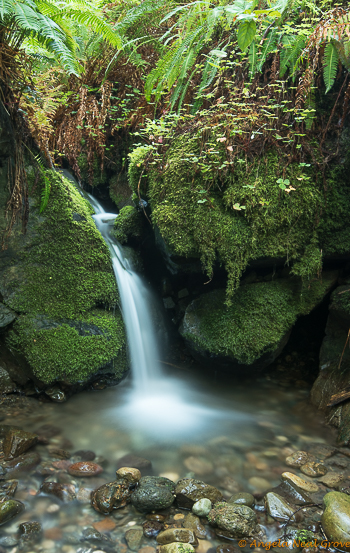 Julius Caesar's Contemporaries
Standing sentinel for centuries these are the oldest trees on the planet. Some are 2,000 years old, seedlings when Julius Caesar was running the Roman Empire.
Sequoia sempervirons are also the planet's tallest trees. At 379 feet these giants top a 37 story skyscraper.
Exploring the Forest
Beneath the lofty canopy of these giants, the unique eco-system of the forest floor is a world of trickling streams and mossy logs. There is a plethora of fern species. Swags of lace-like lichen hang from understory branches and shrubs.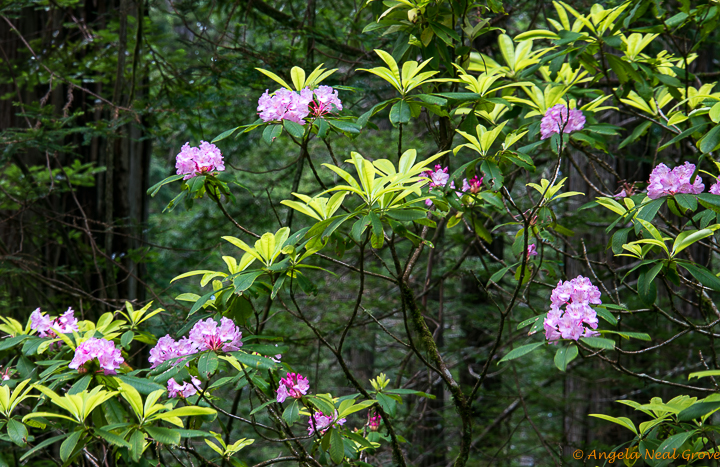 Rhododendrons grow profusely in the understory, often arching over trails. They bloom in late May when graceful branches bear clusters of delicate pink blossoms. These create a bright counterpoint against the green monochromatic palette of the forest.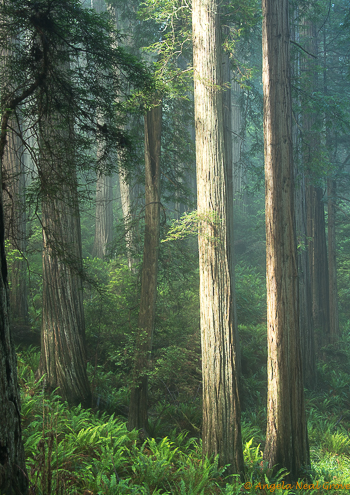 Almost Gone…
For thousands, perhaps millions of years these primeval ancient redwood forests flourished, untouched along the craggy Oregon and California coasts.
When gold was discovered everything changed. Homes were needed and lumber became the new gold. In 1918 Save the Redwoods League was formed. Since then it has protected nearly 200,000 acres of forest and helped create 66 parks and preserves.
Today just 4% of these old-growth forests remain.  many within Redwood State Parks.
Protection is essential. According to the Scientific American they, "provide some of the cleanest drinking water in the world, critical salmon and wildlife habitat, world class recreational opportunities and critical carbon storage in our fight against global warming."
Visiting the Ancient Redwood Forest
I joined a group led by photographer Michael Frye who took us to many of his favorite places near Klamath. These included Lady Bird Johnson Grove, Damnation Creek Trail and Trinidad State Beach.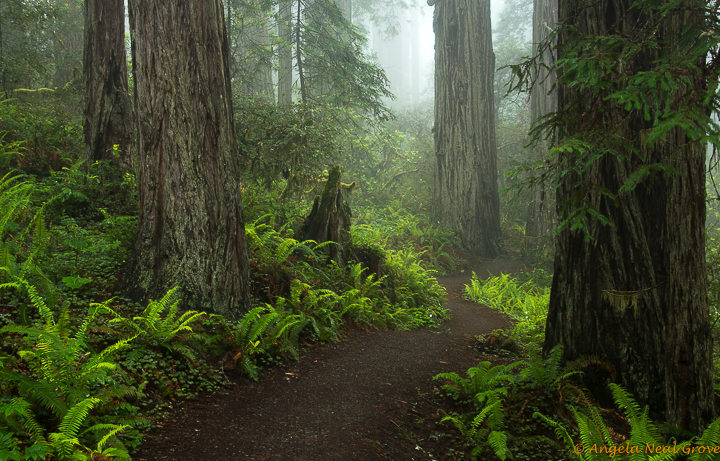 There is much to explore in the area, both north and south of Eureka, including the Garden Club of America Grove. On  the coast, where the trees meet the Pacific Ocean, the beaches are pristine, wild and beautiful.
Places to stay include Requa Inn, Klamath, which has wonderful home cooking, and the Benbow Inn at Garberville. Highway 101 runs directly through the area. Save the Redwoods website has detailed information and maps.
Happy Trails…