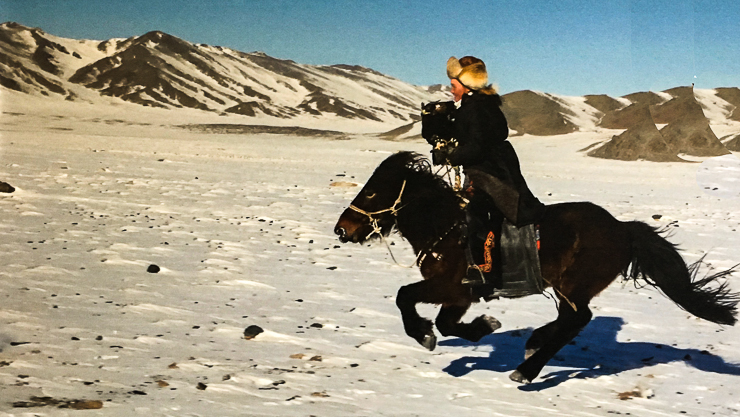 Run don't walk to the Eagle Huntress. This documentary has it all, storyline, cinematography and exotic location. Best of all it is a heartwarming story about a 13-year-old girl who defies centuries-old male traditions.
Meet Aisholpan Nurgaiv who lives on the vast Khazkh Steppe with her nomadic family. Here men ride with their trained golden eagles into the rugged Altai Mountains to hunt, a skill passed through generations from father to son. Aisholpan watches her father, Agalai, a master eagle hunter and decides she would like to follow in his footsteps and compete in the Annual Eagle Festival.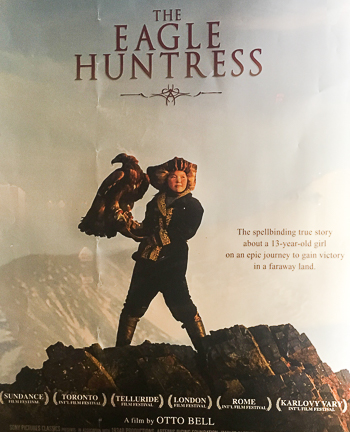 Male elders and relatives are scornful. However Agalai is supportive of his daughter, believing girls can do the same as boys if they are determined.
Aisholpan will need her own eagle, so the adventures begin high in the mountains as her father lowers her by rope down a steep cliff towards an eagles nest. The goal is take a female eaglet to train. This was for me the first of many edge-of-the-seat moments.
As it continues the movie shows Aisholpan training the eagle against the backdrop of life with her family and at school where she boards during the week. Scenes of life in the Steppes with the vast sweep of mountains and plateaux are stunning.  A drone-mounted camera was used for many aerial shots.
When the eagle is ready for the competition there are more edge-of-the-seat moments as Aisholpan prepares, wins and eats a celebratory meal with the men. Grumbling male elders and relatives, however, devise another extremely challenging addendum to the competition. I won't spoil the story but just say it is spell-binding.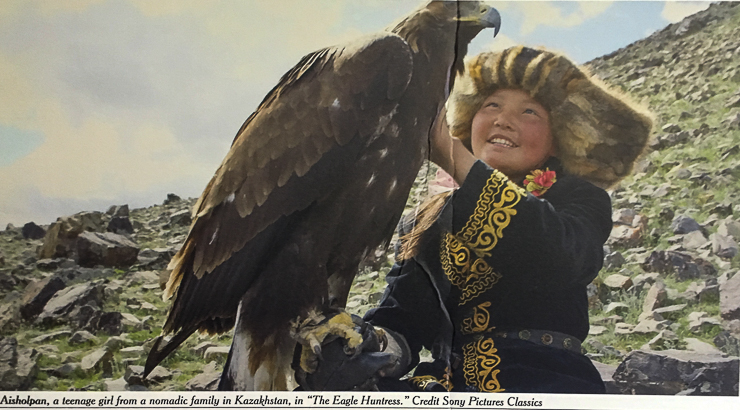 Directed by Otto Bell, The Eagle Huntress was a hit at Toronto, Sundance, Telluride and other film festivals. In Kazakh, there are sub-titles and some narration by British actor Daisy Ridley who is also an executive producer.
Postscript; proceeds from The Eagle Huntress have enabled Aisholpan to attend a more advanced school. Her ultimate goal is to break more boundaries and become a surgeon.
You go girl!