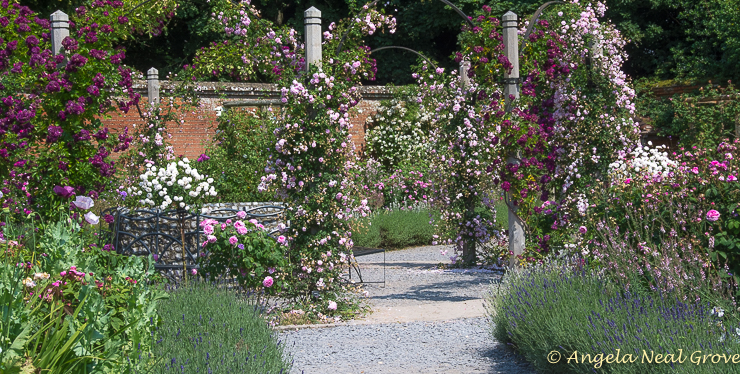 English Garden Style With Roses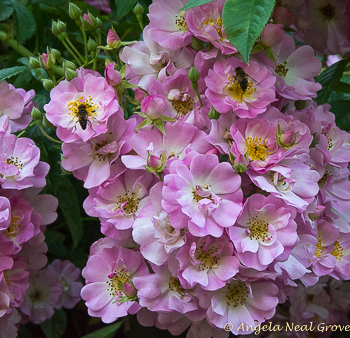 When roses bloom in the English Garden it is time to head to Mottisfont Abbey. Nestled in Hampshire's Test River valley, it has a world- famous collection of pre-1900 old-fashioned roses.
I was there this week. There were thousands of blooms in borders and clambering on walls and trellises in the vast walled garden. The air was heavy with their fragrance. Bees were working overtime.
Mottisfont Abbey dates back to the thirteenth century. In 1970 Graham Stuart Thomas saved ancient blooms from extinction and created the rose garden. It is a National Trust property.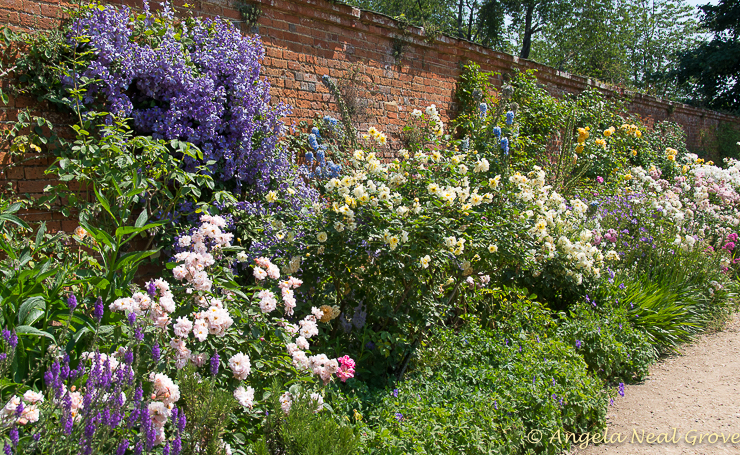 English Garden Style With Sculpture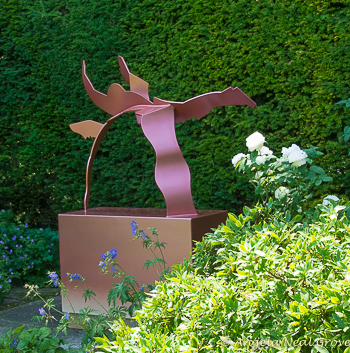 Not far from Mottisfont is Roche Court which has quite a different English garden style.
Set on a ridge, with sweeping views of the Wiltshire countryside, the 20 acre garden and park the setting for over fifty works of contemporary art.
It is a perfect foil for the pieces which have been placed under oak trees, against yew hedges and on lawns and meadows. As light changes sculpture is brought to life and seems to have different dimensions.
The use of art and sculpture in gardens dates back into antiquity. Much was used in Pompeii and Herculaneum. At Roche Court the art, which is for sale, has been optimally placed so it draws the eye to vistas and highlights the beauty of the surroundings.
High in the Sky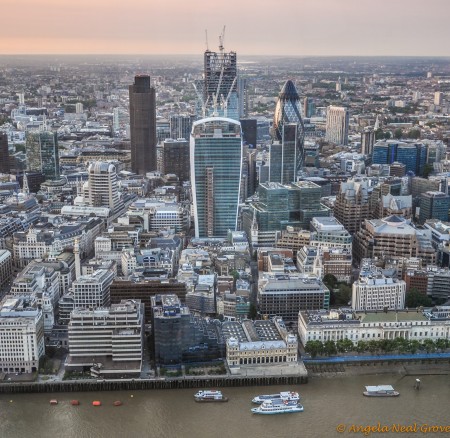 Roof Gardens also date back into antiquity. Think Hanging Gardens of Babylon.
London has its share of these lofty retreats. The garden built on the roof of Derry and Toms department store building in Kensington is one. Established in 1938 it covers 1.5 acres, has ponds, established trees and wildlife including flamingoes.
Not as elaborate but newer, and much higher, is the Sky Garden on floors 35 – 37 of the "Walkie Talkie" building, 20 Fenchurch Street in the City.
Here is an urban English garden high above London's financial center. Below is the River Thames, the 1000 year old Tower of London and Tower Bridge. There are sweeping views to Canary Wharf in one direction and St. Pauls and Parliament in the other. To view these landmarks though agapanthas and ferns is unexpected and unique. The lush plantings extend three floors.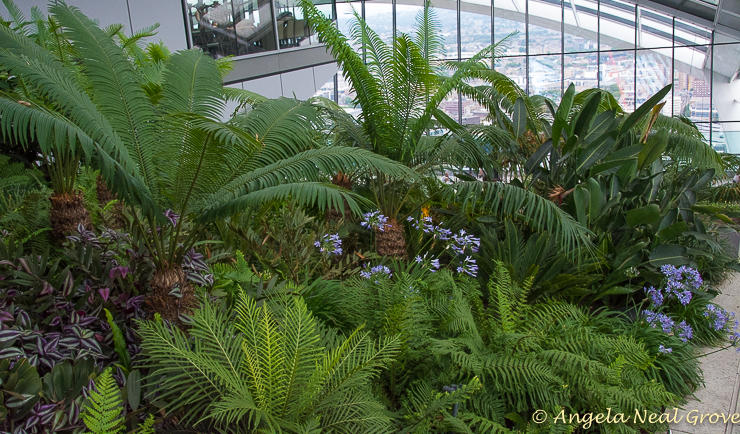 English Garden style is always evolving with new styles, new plantings and new ideas. Mottisfont's ancient roses, Roche Park sculpture park and London's roof retreats are just a few of the treasures.
Planning to Visit?
Mottisfont: The roses bloom in June but this is a garden and property for all seasons. www.nationaltrust.org.uk/mottisfont
Roche Court and NewArtCenter: www.sculpture.uk.com
Sky Garden: www.skygarden.london.com
Derry and Toms roof garden: Now owned by Richard Branson; www.roofgardens.com