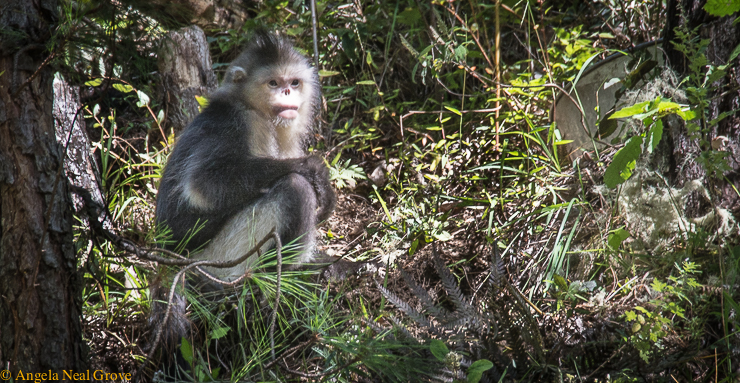 For centuries there were tales of woodland elves living in the remote land James Hilton dubbed Shangri-La. In 1960 Chinese scientists explored the area by mule train looking for extinct yeti. They returned with news of a mountain monkey. Named the Yunnan snub-nosed monkey (Rhinopithecus bieti) it is, like pandas, on the endangered list.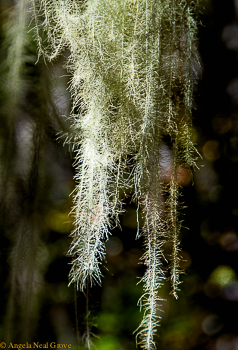 On the trail of the Yeti
There are estimated to be under 2,000 of these monkeys. Their mountain home is remote and for much of the year impenetrable. We were lucky, while Searching For Shangri-La we had a chance of seeing them. Best time would be early morning feeding time.
Mist hung over the valley as we clambered awkwardly up a steep forest path. We met some rangers hunched over a small log fire who said the monkeys were around. They suggested taking a different direction. As we tramped down and then up another path, stepping under low branches I wondered how likely we were to spot this yeti, or woodland elf.
Pink lips, snub noses and lush fur coats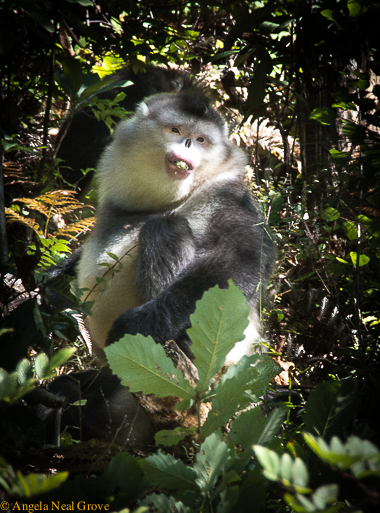 Then high above us was a tell-tale movement in the branches of some evergreen oaks. We froze. I could see dense black shapes. I grabbed my camera. It was a large group and they were headed for a clearing where rangers had placed mounds of lichen.
As they clustered on tree stumps munching I watched, fascinated. They have tiny noses, barely a snub, almond eyes and huge pale pink lips. On top of their heads is a black tuft which looks like an overgrown crew-cut. Juveniles have elf-like ears.
Their fur, long and lush to protect against brutal winters, is black with white around their faces and and belly. It shone in the sun. With pink lips, crew cuts they looked as if they were ready for a stage show instead of ekeing out an existence in one of the worlds most rugged places.
Were these really the mythical yeti?
Endangered Monkeys, Endangered Habitat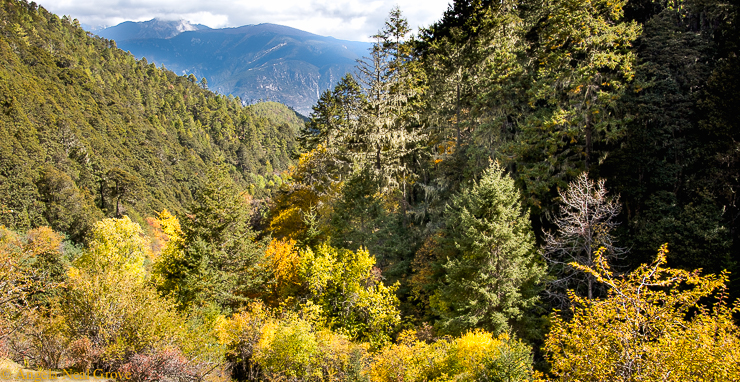 The monkey's remote home is in forests of fir, spruce, evergreen oak and rhododendron on the slopes of the Meili Snow mountains between the Yangtze and Mekong Rivers. This is in the Unesco Three Parallel Rivers Park. Altitudes range from 10,000 to 14,000 ft and no other primate lives at this altitude. There is frost 280 days of the year with heavy snowfall in winter.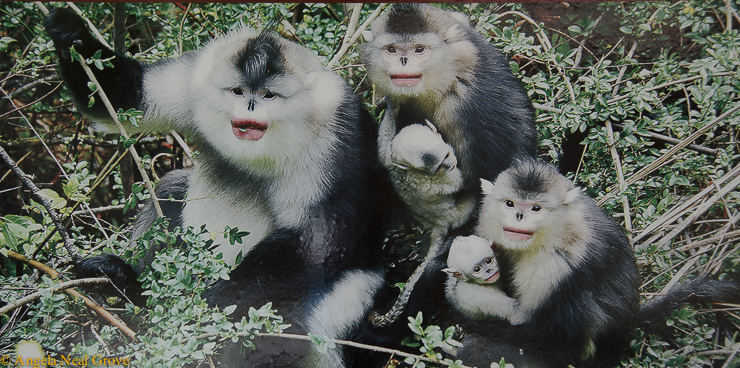 With China's impressive modernization and new tentacle-like infrastructure and dams the Yunnan snub-nosed monkey is endangered. Award winning wildlife photographer, Xi Zhinong, founder of Wild China Film took two years tracking and photographing the monkeys in their habitat. Known for using his camera to raise awareness for conservation issues his movie, The Mystery Monkeys of Shangri-La, which was released on PBS last year is spectacular. (See below after short ad)
In this year of the monkey I wish these beautiful gentle creatures a good future. It was a privilege to see them in their home.