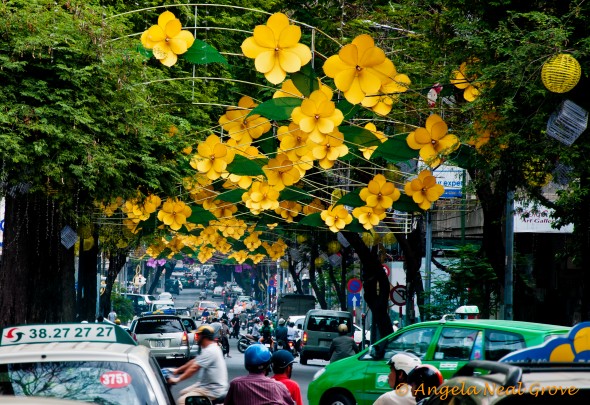 It was 2:00 a.m. when I arrived in Ho Chi Min City. The flight from Hong Kong was delayed. I dozed as we cruised over the inky black South China Sea. I imagined my destination. Faded French colonial buildings and bustling new commerce overlaid with a legacy of bitter conflict.
Tet Flowers Filled the Streets
Enough of my preconceptions, as I drove in from the airport I could see streets hung with flowers. I had not expected a city all dressed up for a party.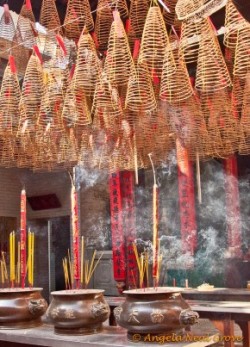 The scene had me awake and peering from the taxi through the darkness. Strung between street trees were thousands of bright yellow flowers moving in the warm air like giant tropical moths. They stretched in undulating swaths creating flowery tunnels. Ho Chi Min City, or Saigon as most residents still call it, was preparing for Tet, the most significant Vietnamese holiday.
Preparations for Lunar New Year
In the following days I watched preparations and felt the anticipation. Shops were filled with traditional flowers, yellow colors in Saigon, peach blossom in the cooler north. In Hanoi there were shops bursting with bright red decorations. Fragrant smoke from burning incense coils in temples wafted into streets. In Hoi An some coils included good luck messages.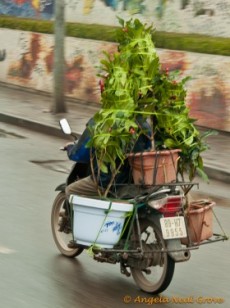 In Hanoi the chaotic motorcycle traffic had an added hazard, as kumquat, citrus and other plants symbolizing wealth and happiness headed home riding pillion.
The Most Important Holiday of the Year
Tet celebrations last about ten days, beginning on the Lunar New Year.  It marks the end of winter and the arrival of Spring. Family members travel great distances, sometimes from overseas, to be together. Celebrations include exchanging gifts and eating traditional food such as banh day. This is sticky rice with meat and beans wrapped in leaves and tied in neat packages.
Tet preparations begin weeks in advance. Houses must be spotless as traditionally they will be checked by the Kitchen God, all debts should be cleared or paid and any differences or arguments settled. New beginnings may include fresh haircuts and new clothes for all family members.
A Family Celebration
Remembering and respecting ancestors is universal. Families offer fruit and gifts and altars in homes and temples were piled with gifts including banh day. There are also essentials for the afterlife made of paper, clothes and money which will be burned as an offering. On a small island in the Perfume River in Hue I watched a woman painstakingly make traditional colorful paper suits of clothes.
In a park in Hue there was a man burning piles of paper money. Streets in Hanoi were littered with this votive money.
Tet Traditions
Several villages around the capital are dedicated to making paper votive products including motorbikes, iPhones and paper cars which can cost $500. A recent proposed law regulates the paper money and bans burning in public places. This did not seem to be enforced.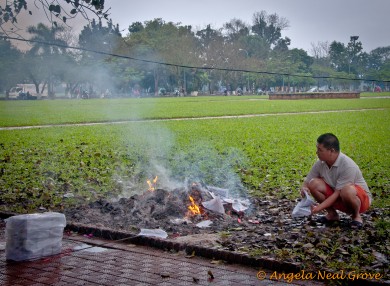 Peach and cherry blossoms decorate homes in the the cool north of Vietnam. In the south the yellow ochna integerrima which  flourishes in the warmer humid climate is the traditional Tet flower.  Yellow also symbolizes wealth, prosperity, royalty and happiness in Vietnamese culture
For me, the memory of the giant yellow blossoms which welcomed me on the balmy night I arrived in Saigon will endure. In the kalidescope of images and memories, to me, they will always be the symbol of Tet.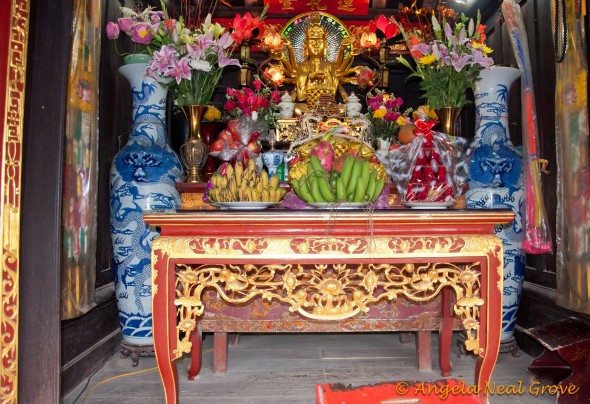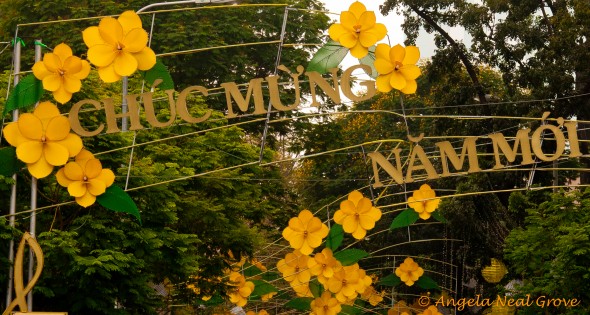 Tet Offensive:  A military campaign during the Vietnam War. It was launched on January 30th, 1968 by the Viet Cong and was a series of surprise attacks. There was a prior agreement for a cease fire during the Tet Lunar New Year celebrations so this took the South Vietnamese and Americans by surprise. It was the largest military operation conducted by either side up to that point in the war.