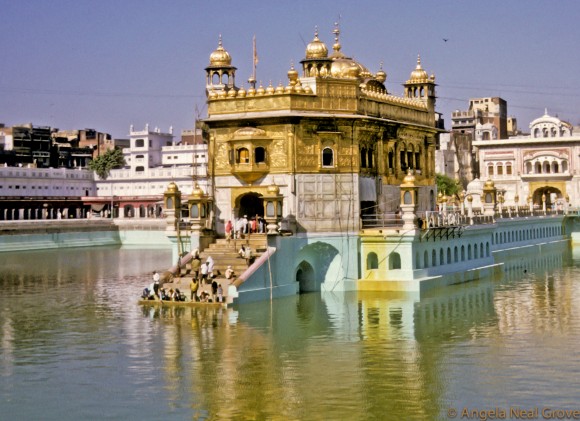 There was the scent of jasmine, a warm breeze from the water and sound of sitar music. I had stepped into the Golden Temple, Amritsar, heart of the Sikh religion in India.
"Please come in!" There were smiles and warm, welcoming gestures. (I could not believe they really wanted me to come in). I removed shoes and entered a new world. I was traveling overland from London to Nepal.  It was rugged. I had been threatened outside a mosque in Meshad, Iran.
this warm welcome to the Sikh Holy Temple was like a balm
Rocks were thrown at me in Kabul. I was learning to travel low profile, expecting little, so this warm welcome to the Sikh Holy Temple was like a balm.  I walked into the cool interior where marble walls were inlaid, in graceful floral motifs, with semi precious stones and mother of pearl.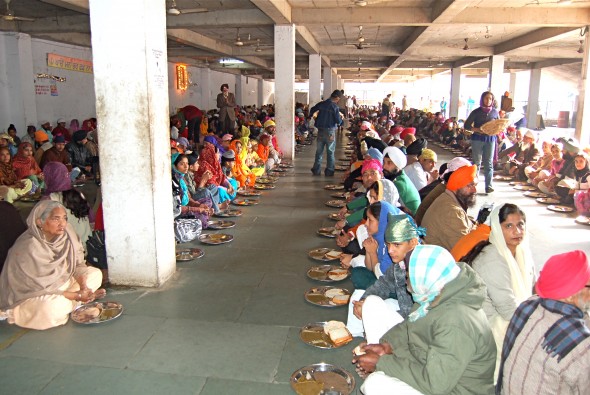 Here was something for each of the five senses, scent, touch, sound, a visual feast, and small sweet rice cakes to eat. This, combined with the atmosphere of peace and tranquility, created an indelible memory which shimmers like the golden domes of the building.  It was an experience which will forever endure.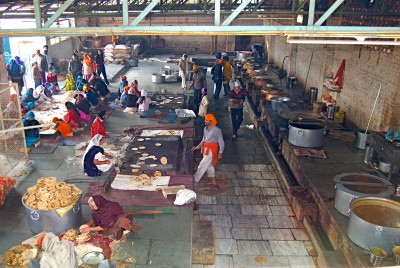 When I stepped back into the bright sun I saw the temple kitchens which are busy 20 hours a day. Huge vats of steaming stewed lentils and piles of warm naan were ready to feed the 100,000 hungry and homeless daily who sit cross-legged on the floor in orderly rows.
On my most recent visit to India I went to the Bangla Sahib Gurudwara Sikh temple in Delhi. Behind the temple are industrial sized kitchens, similar to those at Amritsar, where hundreds of volunteers prepare food to feed up to 70,000 people daily. Being generous to the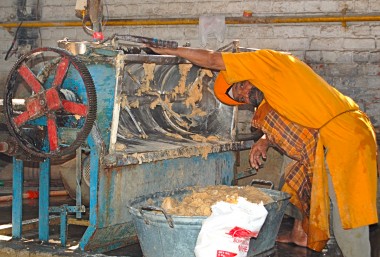 less fortunate and serving others is a lynchpin of Sikh beliefs.  Sikhism also stresses the importance of doing good actions rather than merely carrying out rituals. Once more the memory of the experience and my respect for Sikhs endures.
Indian independence and the 1947 partition of the Indian sub-continent caused great hardship to many Sikhs. Many left their Punjab homeland, bound for England, moving to east London where the Olympic park and stadium is situated.  Others moved to the US. Many  live or farm successfully in California's Central Valley where conditions are similar to the Punjab.  Others went to Wisconsin.   On Sunday, shortly after the Saturday night crowd of spectators at the Olympic stadium had sung enthusiastically along to the Beatles song, Love is All You Need, tragedy hit the Gurudwara in Wisconsin. For me this tragedy brought back reality. Once more I was back in Amritsar.
Athletes from 204 countries are competing in London at the 2012 Olympic Games.  For the first time women are participating in headscarves, it is not an issue. The games are situated in a multicultural area where 110 languages and dialects are spoken. This is a celebration of diversity. The games are an international coming together.  However Sunday's horror brought back how far we have yet to go. Love may not be all we need but for sure it is a good place to begin.