My first visit to Hong Kong was time-capsule perfect.  Floral frocks, tea at The Peninsula and drinks on the veranda. Second time the sun had set on that era.  With new ground rules, bird flu and Sars there was a pause for reinvention. Fast forward to the present.  On my most recent sortie I found Hong Kong beyond vibrant, exciting and energetic. It is also Fun. The food is fabulous, there is a scene that never ends, great glamor quotient and women with the kind of pared-down elegance that left me frantically foraging in my suitcase.
Sunrise
Hong Kong always was a natural beauty.  Steep-sided green islands clustered around a peninsula set in the glittering South China Sea. Today, man's staggered skyscraper forest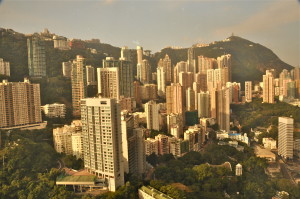 adds another dimension to that allure. In early morning, a soft light washes the buildings with a rosy glow. Parrots screech as opportunistic raptors circle, drifting in the warm air. But this is no languid sub-tropical isle.  The world's longest pedestrian escalator is already busy, carrying throngs of bankers to their daily toil in the office buildings of Central.  Narrow trams and double-decker buses thread through narrow urban canyons.  Enclosed glass elevated walkways connecting offices, shops and restaurants are filled with fast-moving pedestrians.  In Victoria Harbor tugs chug, pulling barges riding low in the water, heavy with materials for constant construction. The Star Ferry plies back and forth across the blue water to Kowloon.
Getting Around
Hong Kong is rarely a permanent posting or a final destination. Almost everyone is on their way somewhere else, whether today, tomorrow or next year.  It is a haven for expats, perhaps, the reason for the unique energy and entrepreneurial spirit. On this visit I had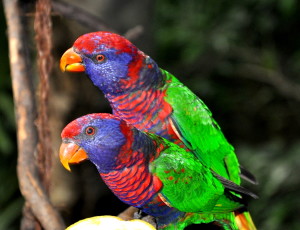 eight days and an Octopus Card, a frequent travel card good on all transportation in Hong Kong, including the speedy metro from the new airport. After taking in the sunrise vista, I left the hotel, headed through Hong Kong Park, past the aviary of screeching parrots, to the Victoria Peak Tram. Octopus card holders have priority, so no waiting in line for the tram which scales the island's 1,308 feet in eight minutes.  This is a must for me each time I am in Hong Kong, though visibility was not the greatest this time, disappointing for photographs.
360 Degree View
Something I had not done before was take the narrow two-mile path encircling the Peak.  It is set into the side of the cliff and overhung with mossy banyan trees.   The views towards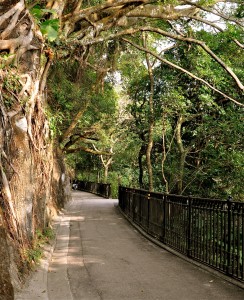 Kowloon and the Chinese mainland are breathtaking. Then, as it circles around, Aberdeen and the South China Sea come into view. There is even a Victorian bandstand along the way, relic of colonial days when the Peak was a fashionable refuge from heat and humidity. Today the bandstand park is a popular place to practice Tai Chi.  After the walk and lunch outside at Outlook Cafe, excellent food and more great views, the overview was complete.  Time to head back down to the action.
Shopping and Dropping
From the tram terminus I walked to Hollywood Road, a narrow winding street above Central intersected by the escalator. This street has so many antique shops and  boutiques filled with treasures from jade to wooden carvings it is like a linear Aladdin's Cave.  The street winds for half a mile and at the far end  is Hong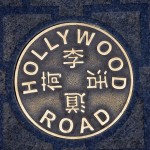 Kong's oldest temple, Man Ho Temple, built in 1840.  Named after gods of literature, Man, and war, Ho, the fragrant smoky hazy of incense from ceiling hung coils drifts across the street.   By now I was getting sensory overload and my feet needed a break.  Time for foot reflexology. All over Hong Kong you can get one of the world's most relaxing foot rubs for about $20. I tried an establishment called Happy Feet.  It was perfect.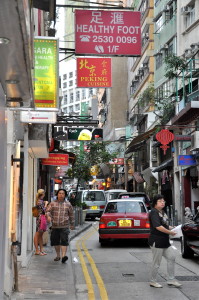 Time to tune out, recharge and prepare for the serious Hong Kong cocktail and dinner scene.
Cocktails and more
I started out at Sevva, atop Princes Building, which has a huge wrap around terrace and fantastic music.  The comfy sofas are reminicent of colonial days, stand up tables more like New York.  But it is the view which goes on for ever and glittering lights that are iconic and unique to Hong Kong.   The skyscrapers with their varying designs and exciting architectural elements are endlessly fascinating. The water in the harbor reflects rainbows of light which shimmer when boats glide past.  We went on to have dinner at The China Club on the top of the old colonial Bank of China building.   Owned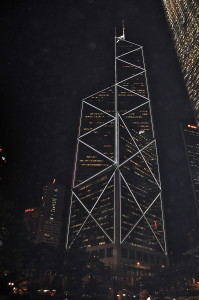 by Sir David Tang it has vintage art deco interior, another terrace – this time with era-perfect rattan furniture, excellent food and power scene.  Time for a nightcap at Upper House – a very modern new hotel – with, yes, drop dead gorgeous views.
End of a Perfect Day
On the way back to the hotel the taxi driver proudly announced, with a wide toothy grin, that he had over 1,000 songs on his MP3 player. Paul McCartney was blasting out "I wanna hold your hand."   As we began to join in, nicely relaxed after an evening on the town, he rummaged in the glove box, turned round and announced:  "Hah, for you!"  Sure enough, the strains of the Star Spangled banner filled the taxi – and the street – through the open windows.   We drove into the forecourt of the hotel with National Anthem blasting.  Smiles all round.  From the driver.  From us.   From the doorman.
The rest of my stay raced by, so much to do.  There was time to relax by the pool at the American Club, have Dim Sum at Maxim's Palace in City Hall, explore the narrow back streets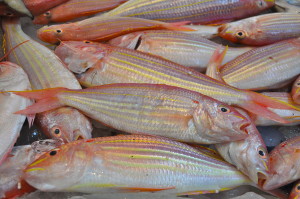 behind central, filled with local food, take a sunset ride to Kowloon to watch the laser light show over Central's skyscrapers, dinner at Dragon I nightclub, Vietnamese food at Song, must-do fitting at the twenty-four hour tailor, a look at Kowloon's bird Market and more foot reflexology.  Next time I will finally get to Lantau Island, the races, Shek o beach, see more of the outlying islands and more expat friends. By then the new Ritz Carlton on floors 102 – 118 of the International Commerce Center building will be open. I will begin there, with a glass of bubbly. The first night in town.  Next time.