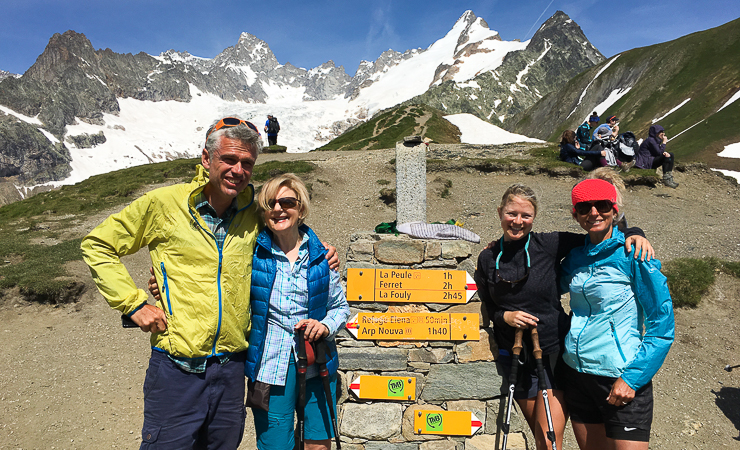 Mont Blanc Challenge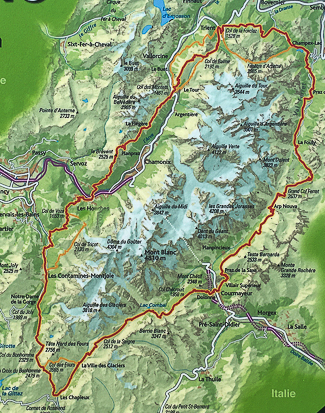 Seventy-five miles of hiking in 8 days with approximately 23,000 ft of ascent? This was our Mont Blanc Challenge.
I calculated the aggregate ascent to be greater than Mt. Kilimanjaro. It would be more like scaling a Himalayan Annapurna. A challenge indeed but I lived to tell the tale…
At 15,781 feet, Mont Blanc, is the highest mountain in Western Europe. It crowns a massive cluster of snow-capped peaks, granite pinacles and glaciers straddling the French/Italian/Swiss borders.
We were to hike a circuit around the massif called the Tour de Mont Blanc. This theme has variations. The Victorians took weeks on mules while crazy marathoners attempt it in 24 hours. We planned to take eight days beginning in Les Houches near Chamonix.
Two Guides, Ten Hikers
Rigorous but civilized is how I would characterize our variation organized by National Geographic. We met our two French guides and our fellow hikers over glasses of champagne. This set the tone. The following morning, against a backdrop of  Mont Blanc and bluebird sky, lunch choices were laid out on a sunny terrace overlooking the River Arve. French cheeses, pate, diminutive thumb-sized salami, warm freshly baked baguettes and fruit and veggies which were farmer's-market-fresh. This would be our lunch staple for the next eight days.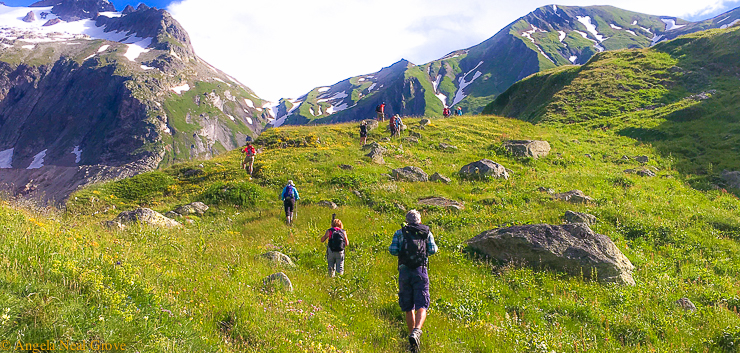 The first day's hike also set a pattern. Soft green bucolic flower-filled meadows, trails disappearing into infinity, mountains passes to climb and snowy peaks. All these glistening against blue skies.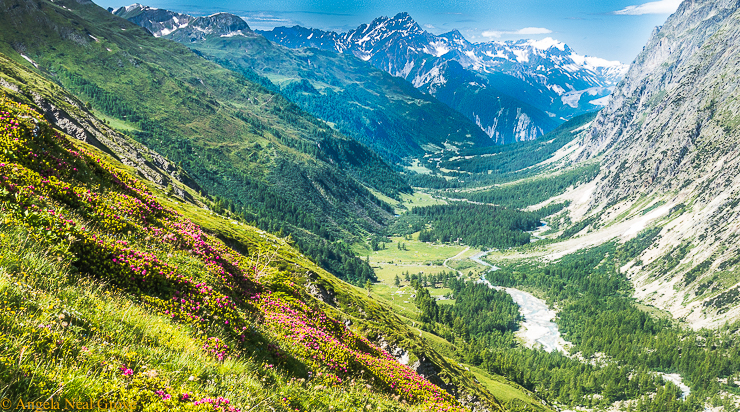 Along the way were refugio's, stone farmhouse style buildings with window-boxes of bright summer flowers. They were perfectly placed for mid-morning hot chocolate, lunch treat of homemade fruit tart or an afternoon celebratory glass of wine. Each had dormitory accomodation for hikers.
Mostly Bluebird Skies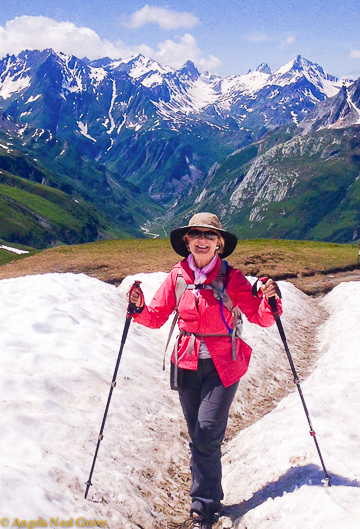 We had one overcast day when thunderstorms were forecast. Clouds swirled around peaks and ominous storm clouds gathered. Our guides tucked incongruous full-sized city umbrellas into their packs, French-style.
Temperature dropped. We clustered in a refugio at lunchtime clutching warm homemade soup. After lunch we set out single file across the snowy flank of the mountain, slushy snow slippery underfoot.
Rain came at dinnertime as we ate al fresco. It pattered on the awning above us. We hardly noticed as one of our guides regaled us with hilarious stories of life in the refugio dormitories. All very French. We closed the restaurant down. I can't remember when the rain stopped.
Each Day was Different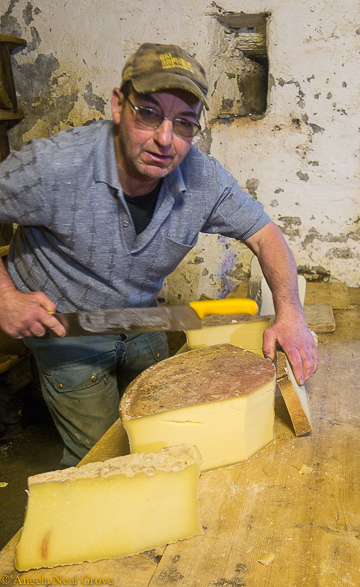 The route was set and we followed our itinerary but, there were always variables. One morning we were confronted by a fast moving snow melt cascade. We decided to  tackle the torrent of icy water barefoot as stepping-stones were submerged.
One afternoon instead of hiking down the slippery snowy mountain some donned waterproof pants and slid to the bottom, spinning round and round. More hilarity.
Say Cheese
Then there was our cheese fix when we visited a farm where the famous  Beaufort Cheese is made. It is stacked in huge wheels in stone cellars with time, date and appellation stamped on the outside.
"Be sure to get one made in the summer," our guide advised, "Milk from cows eating flowers is much sweeter."
Journey's End
After eight days of strenuous climbs and sometimes punishing descents we came full circle in our Mont Blanc Challenge and arrived back in Chamonix. One in our group carried a small rock from each destination. Most just carried memories and memory cards full of images. I had the warm feeling of accomplishment having completed one of the worlds most iconic walks with its attendant ascents.