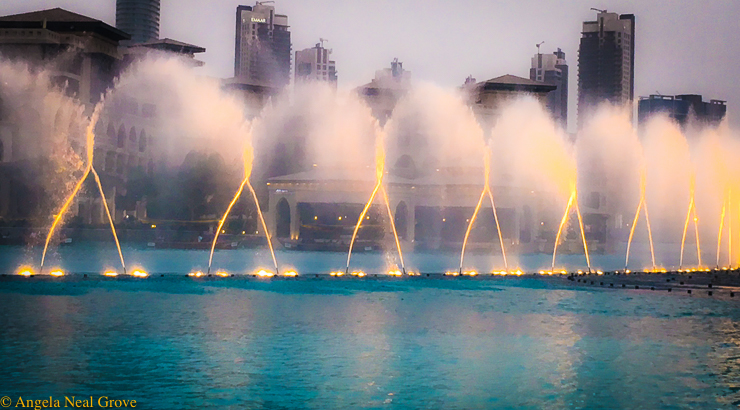 Dateline Dubai, What's New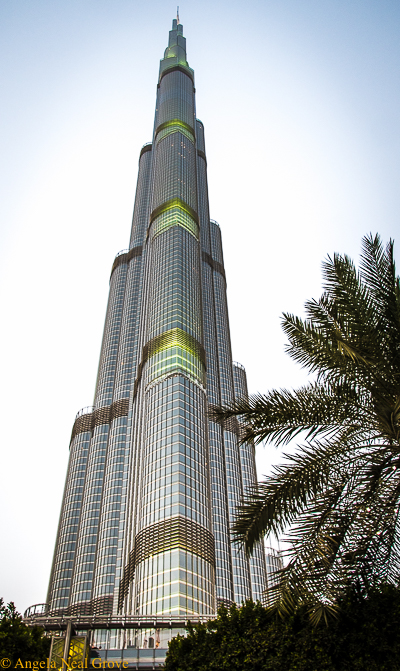 In Dubai on Monday construction began on The Tower, the world's tallest building. It will be higher than the Burj Khalifa which stretches half a mile into the sky.
Completion is scheduled for  Dubai Expo 2020. The exact height is yet to be revealed, but the design by Santiago Calatrava is a slender tower "evoking the image of a minaret". It will have hanging gardens, observation decks and, like the Burj Khalifa a hotel.
Straight to the Top
In August I had a three night stop-over in Dubai. I headed straight for Burj Khalifa, currently the world's tallest building. I bought a ticket for the observation deck on floor 124 before leaving home.
To reach the top, which is twice the height of the Empire State Building, the elevator zooms at a heady 30 feet per second, one of the world's fastest. The view of Dubai's City State from the top was predictably stunning. A little hazy, due to localized dust storms but jaw-dropping.
Largest Choreographed Fountain
Below the skyscraper is the Dubai Mall – of course the world's largest, and the Dubai Fountain said to be the largest choreographed fountain. The display circles and twists along the length of a huge artificial lake with water jets reaching 500 feet. Music is eclectic; Michael Jackson's thriller, classical and Arabic.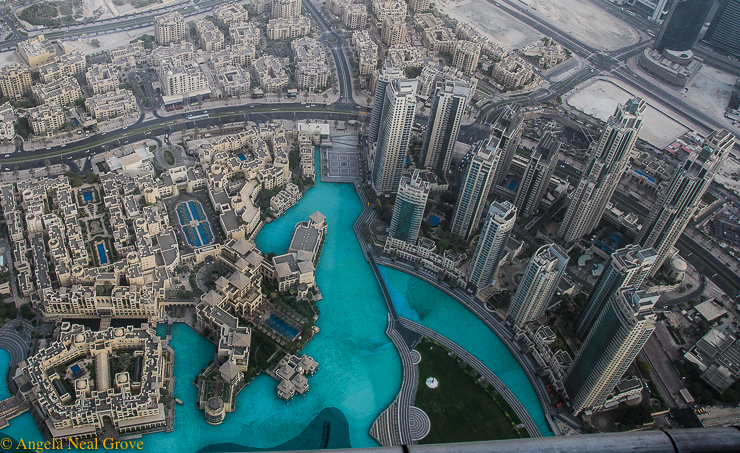 Dateline Dubai, My Highlights
As well as Burj Khalifa my bucket list for Dubai was crammed, Gold Souk, Alserkal Avenue thriving art galleries, Dubai creek and Dubai Museum. The food scene is vibrant from Michelin star to food truck as is the nightlife.
Day Abu Dhabi Side Trip
I also wanted to see Abu Dhabi, another of the seven emirates and just an hour away. It was a whirlwind day. First the Sheik Zayed Grand Mosque.  It has 80 marble domes and white columns inlaid with semi precious stones set in the  shape of flowers. It was reminiscent of the Taj Mahal. Inside is the world's largest hand-knotted rug and chandeliers of Swarovski crystals and 24kt galvanized gold.
After that I headed for the Emirates Palace Hotel with its 114 domes and 1002 chandeliers. Here ATMs dispense gold and the spa offers a three-hour gold ritual which includes a 24 carat facial, application of gold from head to toe and shea butter massage. Next time perhaps? Along with the  Louvre Dubai which opens in 2017 and a proposed Guggenheim Dubai.

I can't wait to go back. Dubai is Emirates Airlines hub. En route to Africa? Asia? Oz? A layover in Dubai is easy and fun. Business class is incredidbly luxurious with chauffeured cars to whisk you from airport to hotel and back. And of course Dubai is Uber friendly.
When to Go
European winter is high season in Dubai and a prime "fly and flop" beach destination for chilly Brits. Summer is sweltering but hotel costs friendly and there is lots of air con. Just remember your Mosque manners if you plan to visit Abu Dhabi.
Yes, I shall go back to the future.