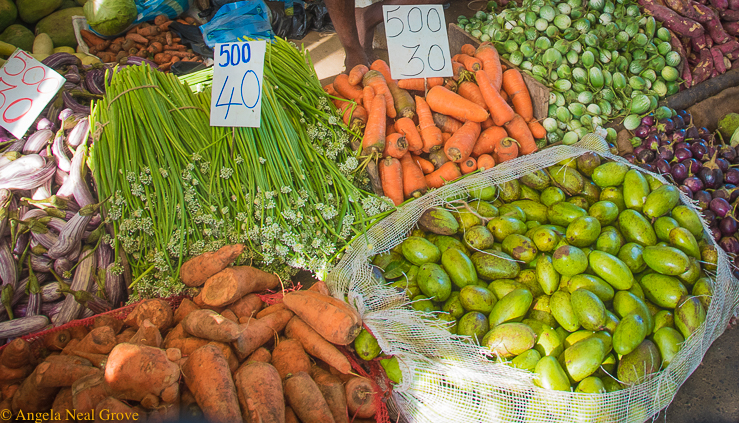 To Market to Market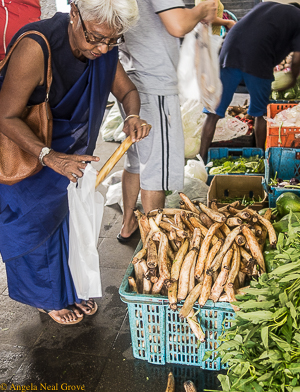 What better place to start a culinary adventure in Sri Lanka than early morning in Columbo's produce market?  There among fresh coconuts and star fruit we met Mohara.
Mohara is a Sri Lankan grandmother known for her colorful curries. She was to share her secrets and teach us how to create the spice island's traditional curries from start to finish. A culinary adventure arranged by Traveling Spoon in San Francisco.
Lotus Root and Bread Fruit
Mohara's bag was already brimming as she greeted us. Diminutive, with a big smile and huge personality, she energetically showed us how to choose the best for our feast from lotus root to bread fruit. Then with ingredients gathered we joined her at her home.
Chop, Chop, Chop…
The cooking class, called Cooking by Colour was in Mohara's garden under a shady awning. After a brief introduction in her living room we donned our aprons, stepped outside and set to work.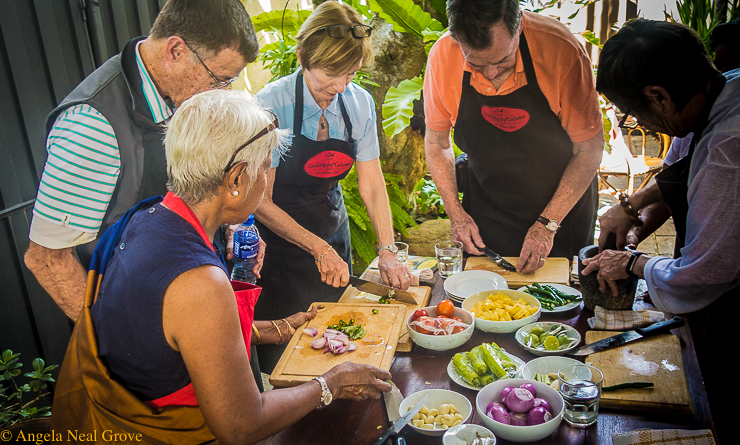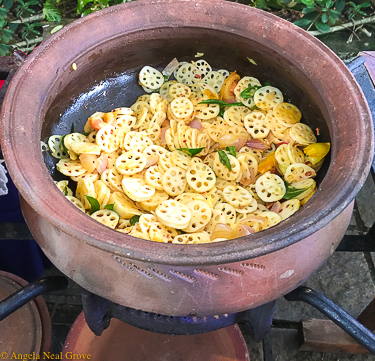 This was fun! We chopped ginger and tomatoes, squeezed limes and sliced lotus root to display its lacy pattern. We learned how to prepare coconut – an integral ingredient of all
Sri Lanka curries. Mohara showed us which spices she uses and blends, cumin, coriander, turmeric, cardamon and fresh curry leaves from a tree in the garden.
Into the Pot
There was a row of traditional cooking pots over burners. A different curry was created in each pot. We added ingredients and spices as they were prepared, under Mohara's eagle eye. The aromas began to make us hungry. This was a true culinary adventure.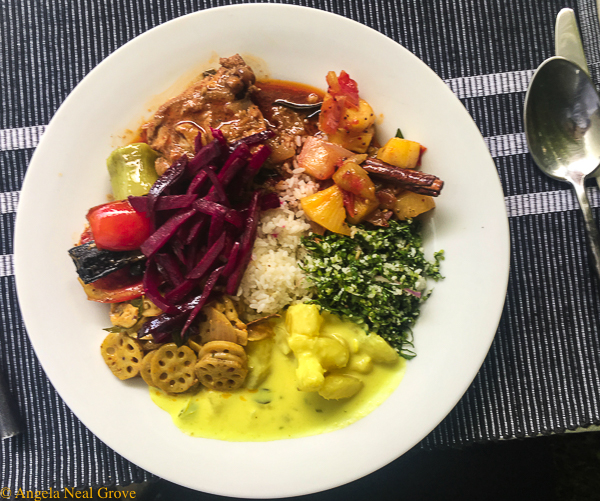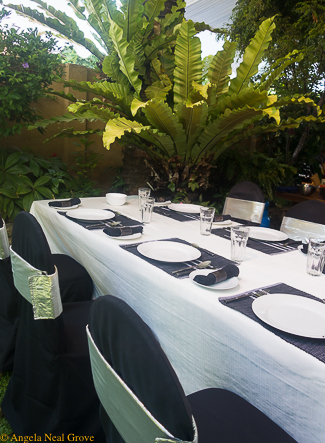 Time for Lunch
A table was set for lunch in the garden. When the curries were ready we helped ourselves. Mohara showed us how to arrange our plates so we could sample each individually, curries around rice in the center. The colors were amazing, spices adding further brilliance to the vegetables. And it was delicious!
Mohara was great company. Born in Malaysia she had lived in Saudi Arabia, begun her own business and raised two children one of whom lives in Canada.
It was fascinating to meet this vibrant much traveled woman, and visit with her in her own garden. We had learned to cook Sri Lankan style and also had found a new friend.
This really was "travel off the eaten path" as promised by Traveling Spoon. We lingered over lunch.
Culinary Adventure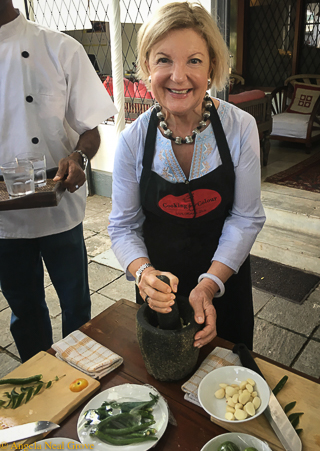 As food is such an important part of a country's culture, this culinary adventure added depth to our Sri Lanka visit. As well as appreciating the food it gave us a glimpse into Sri Lankan family life behind the high walls of Columbo's residential areas.  Now I have the recipies and spices – its time to create my own curry…
This really was "travel off the eaten path"
Traveling Spoon, based in San Francisco, arranges for travelers to experience home-cooked meals and classes in countries on four continents. The concept is "like having someone's mom cook you a home-cooked meal in every country you visit." Traveling Spoon connects travelers with fully vetted hosts who are superb cooks. For more information contact travelingspoon.com.