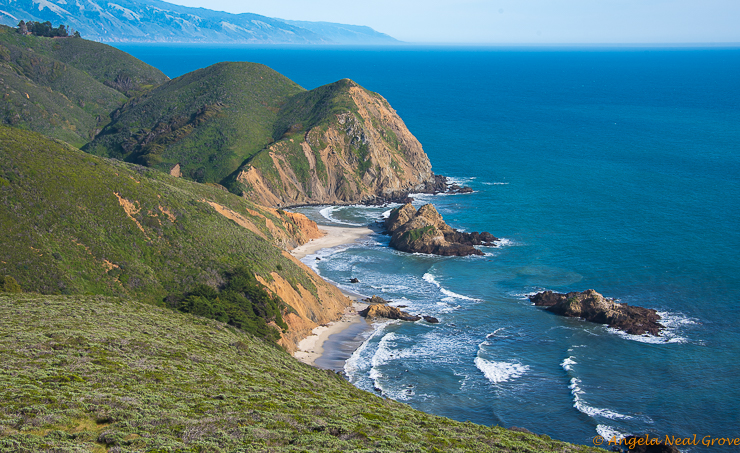 Update on Big Sur Spring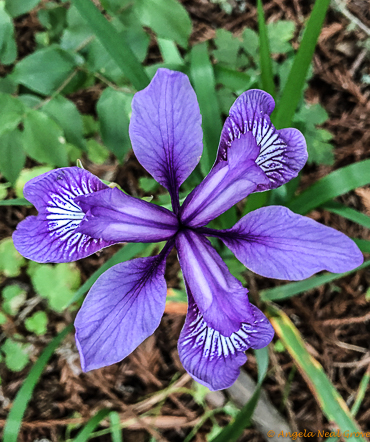 After the devastating Soberanes fire and record-breaking floods and mudslides Big Sur Spring recovery is underway. Slowly.
The slopes of the Santa Lucia mountains which plunge into the Pacific Ocean are awash with a bumper crop of wild flowers. Golden California poppies dust fire ravaged hillsides. I am one of the few who was lucky enough to recently see this spring bounty.
Unfortunately the cliff-hugging Highway 1, sometimes referred to as a national treasure, is closed in four locations cutting off access. There are no alternative routes and the Pfeiffer Canyon bridge will not be replaced until September. The loss of the bridge has divided the community.
Tale of Two Cities
On one side of the divide is the Big Sur River Inn which, when I was there, was packed with lunchtime crowds sitting under umbrellas enjoying spring sunshine. Plans were afoot for the annual Big Sur Marathon.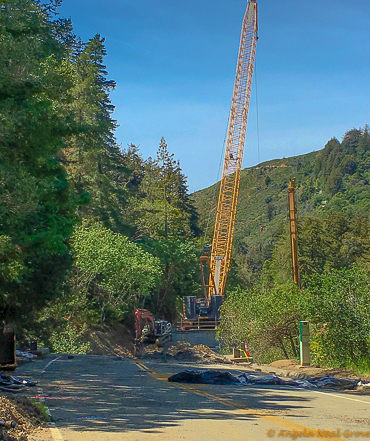 On the other side is the rest of Big Sur including hotels, restaurants, shops, art galleries and the post office.
Linking the two is a narrow trail which winds up and down the steep hillsides through ravaged campgrounds and towering redwoods.
The trail is for residents only and is a lifeline. Children use it to get to their school buses. It is the only way supplies reach those who are cut off. When I was there some residents were hauling huge backpacks on frames bulging with supplies. Another woman was carrying a party dress for an event on the other side.
The feeling at the end of the trail was quite other-worldly. The usually busy road, so popular with tourists and sightseers, is deserted. Restaurants and businesses are closed. Beneath our feet telltale cracks indicative of unstable ground. Yards away an abyss where once there was a bridge.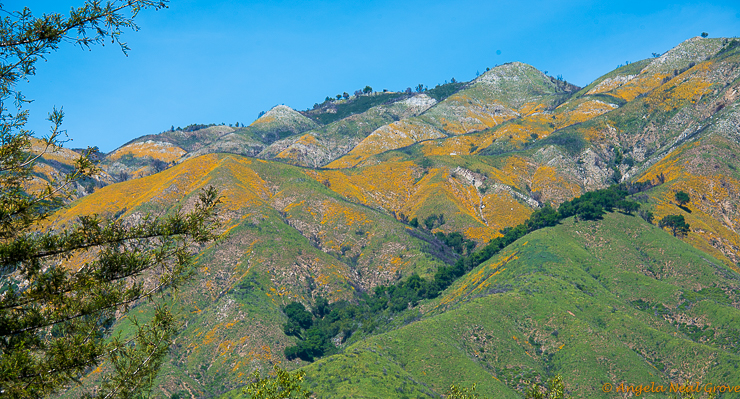 Planning a Visit?
Recovery and rebuilding is underway. At Pfeiffer Big Sur State Park some limited camping opened on May 19. Other areas will open gradually, though before the September opening of the new bridge much will be inaccessible. Big Sur Chamber of Commerce has a website which lists current conditions as does Caltrans.  And then there is Big Sur Kate a wonderful blog, an institution in the area, which really gives the inside scoop. Happy Trails.