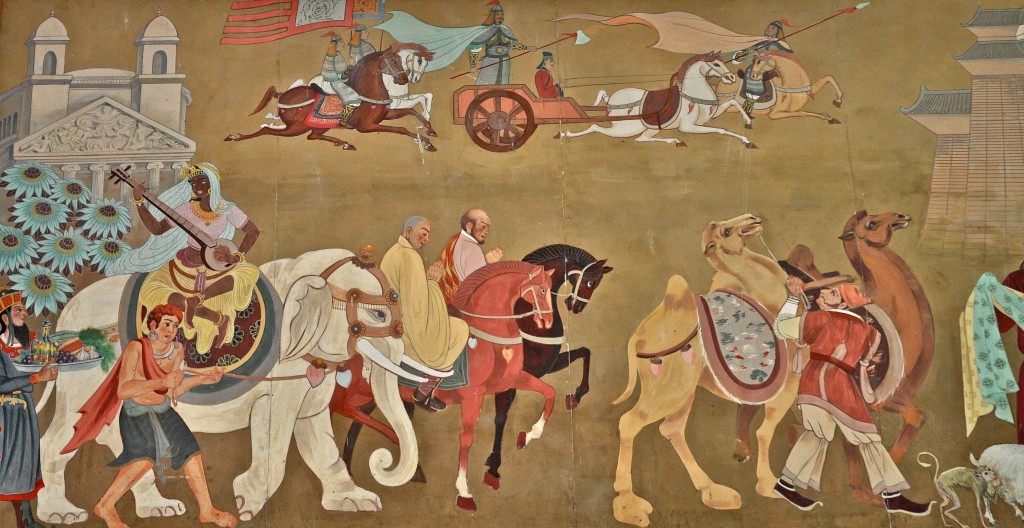 Last Spring I traveled the Ancient Silk Road.   It was a long time ambition.  I did not know it would change my life.
Epiphany Moment
The idea of the Silk Road had shimmered on the periphery of my imagination for decades. In Herat, Afghanistan, there is a mausoleum with a unique ribbed dome. Years ago, when Afghanistan was peaceful, I sat eating a juicy melon in the shade of the turquoise tiled dome and learned, from the Afghan guide, there were only two of this kind in the world.  The other was at Samarkand, a legendary silk road city in Soviet Central Asian Republic of Uzbekistan. Back then that was a difficult place to travel, and since China was closed to the outside world, the Chinese section of the Silk Road was completely out of range.
Ancient Journey, New Name
The Silk Road was a trading route which connected the Imperial dynasties of China and Rome.  It stretched from Xi'an in Eastern China to the Mediterranean.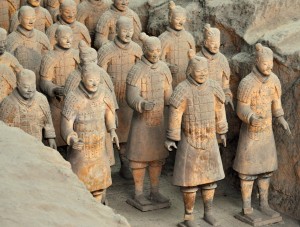 Records show that from 200 BC intrepid travelers faced endless barren stretches of desert, perilous mountain passes, avalanches and raging rivers.   Mongol hordes and marauding armies from the Steppes were another problem.   Over 2,500 years the 4,000 mile route evolved into a vast sprawling network of trading trails.  Only in 1877, did German geographer, Baron Ferdinand von Richthofen uncle of the infamous Red Baron, with Germanic precision, give the journey the tidy title of The Silk Road.  Silk, a rare and prized fabric in Julius Ceasar's day, was one commodity, along with jade, gold, amber, ivory and tea.  These treasures were packed onto bactrian camels which traveled in groups of  100 or more.  These were called caravans and they traveled about twenty-five miles a day.
Twenty-First Century Caravan
Today this epic overland thoroughfare is open once more. Rail, road and airlinks speed up a journey which once took years. I went on my long-anticipated odyssey with a group of close friends.  We began in Beijing, though the classic terminus is Xi'an. It was there, in the company of the vast armies of 6th century Terracotta Warriors, the anticipation began to resonate. Two days later we were in Dunhuang close to the Gobi Desert.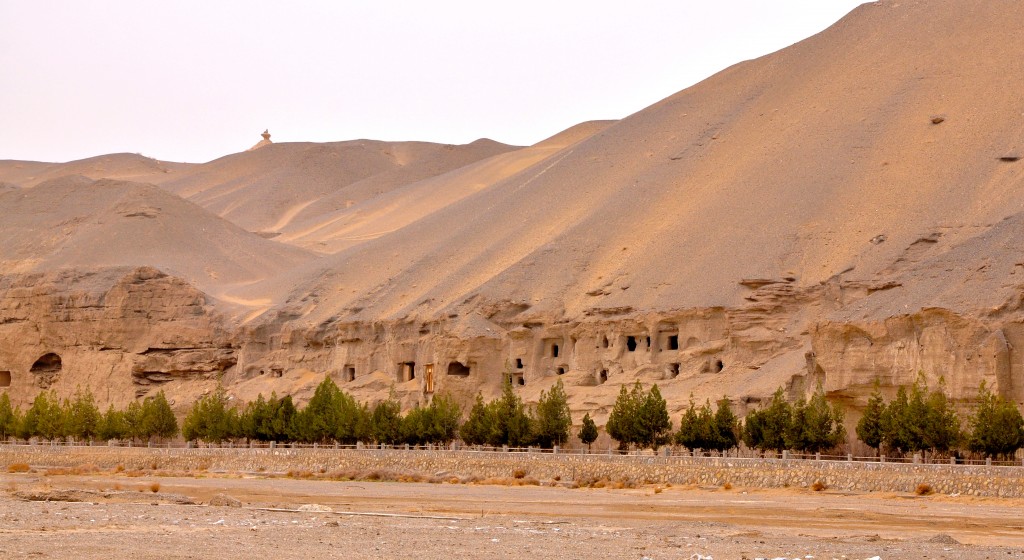 Over a thousand caves are carved into sandstone cliffs housing one of the worlds greatest collection of Buddhist art dating from the seventh century.  Religion as well as trade traveled along the Silk Road.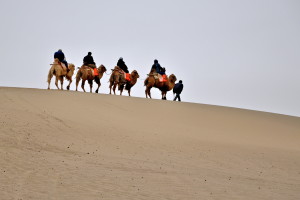 Later that day we rode up into towering sand dunes in our own small caravan.  A group of camels waited patiently for the twenty-first century travelers eager for a taste of the authentic.   It was April, but bitterly cold with dry snowflakes dusting our jackets as we bumped along on the two humped Bactrian camels.  I buried my fingers in the camel's warm wool trying to keep warm.
Following the Road
From Dunhuang we took the local night train to Turfan a warm grape-growing desert oasis.  This is in Xinjang province, home of the Uighurs who are Moslem  and have Turkic ethnicity. Dinner one evening was in in a local home.  We washed our hands three times in a bowl offered by our hosts according to Moslem custom.  Then we sat outside on raised platforms covered with soft tribal carpets. There was birdsong and fragrance of flowers as we tucked into our juicy lamb kebabs.
The ancient city of Kashgar near the border of Kyrgyzstan was another highlight with its winding medieval streets and Sunday market where Uighurs, Uzbeks, Kyrgyz, Tajiks, and Khazaks trade and barter animals.
No Yurts this Time
Like travelers of old we had to change the route due to a Coup d'etat.  We were scheduled to travel through Kyrgyzstan, known as the Switzerland of Central Asia, and stay in yurts.  Someone had described the yurt experience as warm and smelly – like the inside of a sheep.  Understandable since they are made of animal hides.  Maybe not five star but I would liked to have found out for myself.  Instead we followed the Karakorum highway south from Kashgar down towards Pakistan through yak meadows, tracing the Afghan border.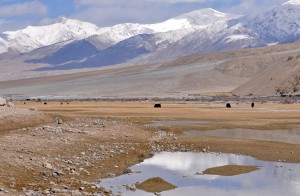 Dome at Last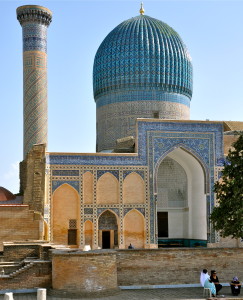 In Samarkand, Uzbekistan, I finally saw that other ribbed dome which had triggered such a huge wave of wanderlust.  It is in the mausoleum complex where Tamerlane lies.  I stood mesmerized in the late afternoon sun just looking at it. It was as beautiful as I imagined. It also had a quiet presence which enveloped me.  An ambition was realised. In Tashkent I parted company with my friends and traveled on alone through the Ferghana valley said to be home to Genghis Kahn's legendary horses. Indeed Pliny wrote of central Asian horses "that sweated blood". Traveling alone in the valley was not a problem – in fact it added a dimension of quiet observation. I found  interacting with people so much easier one on one, instead of being in a group. Despite language barriers I was able to connect with the people I met.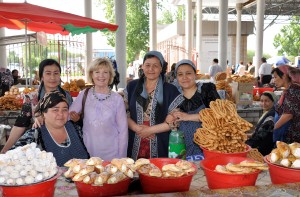 Eventually I boarded train #5 from Tashkent and spent three days and nights traveling north over the Central Asian Steppe, tracing the remnants of the Aral Sea and chugging across Mother Russia's endless green steppes.  The three days were difficult – harder than I had thought they would be, but that is another story.
Summing Up
So why did this journey change my life?  Beyond the feeling of accomplishment of having achieved a long cherished ambition – some of it alone – it opened the doors to a whole new horizon- learning which has taken me in new directions.  I have published The Ancient Silk Road Part One, and already given several illustrated presentations on background, history and experiences.  The geographic and historic scope is enormous and humbling.  Alexander the Great, Tamerlane, Genghis Kahn and Babur are just a few of the cast in the pageant which has the Central Asian Steppes, vast deserts and the worlds greatest mountain ranges as its backdrop.  No, this dream did not disappoint and the legacy lingers on. The timing was perfect. I was at a Bridget Jones impasse in my life. Like Bridget Jones this story has a great ending.  She met Colin Firth and I met Tamerlane.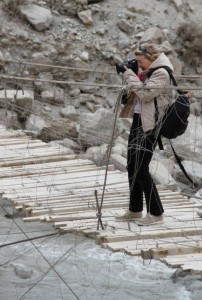 There is More
I have culled my photographs and published two coffee table books, The Ancient Silk Road Part One, and The Ancient Silk Road, Part Two, The Road to Samarkand. They are both available at blurb.com.  Both books are now available as ebooks for tablets, Ipads and smartphones.
To read more about my adventures traveling The Ancient Silk Road and Central Asia, click here.